Social media is an ever-changing environment. To stay atop of this powerful tool and ensure it is being used effectively, we need to understand where it is going and how it is expected to evolve. Here we look at some of the trends that are expected to dominate 2022 across social media platforms.
More Authenticity/Transparency
Consumers are demanding transparency from the businesses they interact with. Most people believe that businesses have a responsibility to be transparent when posting on social media. However, many people don't believe that brands are being open or honest online.
Consumers are always wary of what they are seeing online and whether it can be trusted. In 2022 this is likely to become more of a focus and consumers will demand increased transparency from all businesses in their digital activities.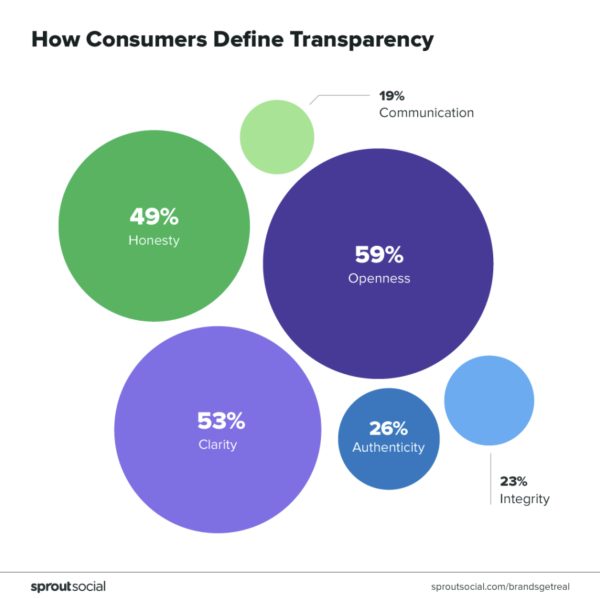 According to Sprout Social, "When brands are transparent and develop a history of transparency, nearly nine in 10 people are more likely to give them second chances after bad experiences and 85% are more likely to stick with them during crises."
By prioritising, authentic, open and thoughtful communication online, you will be able to foster a better long-term relationship with consumers. 
This means, promptly admitting mistakes when something happens and showing what steps you are going to take to rectify the problems. Instead of rushing to try to cover up a problem or mistake, share it with your audience. They will appreciate the openness and be more likely to trust your business in the future. 
Short-Form Video Content will Continue to Rise 
It's no secret that short-form video content has been dominating the social media world in 2021. After Tik Tok blew up, other platforms followed by creating space on their platforms for short-form video content – think Instagram Reels and Youtube Shorts. 
This isn't just a temporary trend. Users are craving more bite sized content, as social media attention spans continue to decrease. 
Businesses that utilise short form video content can expect to see increased brand awareness, more engagement on their posts and their pages and increased sales. ​​
​​Video is key to not only engaging your audience but humanising your brand. Most trends that you see online can be adapted to suit your business.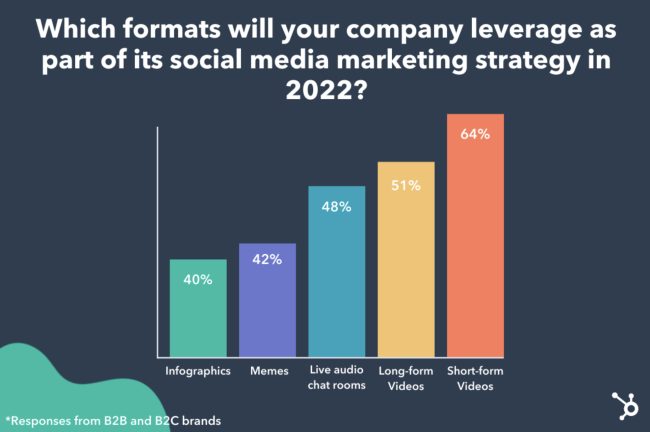 HubSpot found 64% of marketers plan to leverage more short-form videos in 2022. 
The Rise of Micro-Influencer Marketing
Influencer marketing can be used for any business. Engaged audiences typically follow these kinds of content creators. Advertising through influencers allows your company to gain credibility, brand visibility and generate new leads. 
Influencer marketing has dominated 2021, the difference we will see in 2022 is the type of influencers that brands and businesses will be choosing to align with.
Brands, even large, well established ones, are moving away from mega-influencers and focusing more towards smaller and more authentic creators to help build communities and connect with their audiences. 
These micro/ niche influencers tend to have a higher engaged audience and have the potential to bring more authenticity to your business. 
According to Hubspot, "Many people trusted influencers more than brands during the pandemic. Which is why influencer marketing is a strong avenue to explore in 2022."
If you choose to use influencers, choose them carefully. They should provide some degree of connection to your target audience. That means going beyond simply looking at the follower numbers and seeing who they are speaking to and how they do it. Having an engaged and attentive audience is far more important than raw numbers. It's about using the influencer to amplify your brand in a smart way.   
Key Takeaways
The key takeaways for social media marketing in 2022 are shifting focus to authenticity and community building. 
Social media marketing should be a strong part of your marketing strategy. By staying ahead of the trends in 2022 you can increase brand awareness and create a community of loyal customers. 
Use short-form videos to grow your audience and to connect with users across platforms. Identifying micro-influencers in your niche and partnering with them, will help your brand have a higher level of engagement and authenticity. 
While you are focusing on brand awareness, make sure you are committed to increasing brand-transparency, so you will not only reach new customers but can foster long-term relationships. 
Commit to authenticity and community and your audience will follow.