What is the purpose of repurposing your content? Besides getting the most out of the content that you are producing, you're making sure you get the most eyes on it as possible.
Not everyone will see all the content that you put out. For example, people might never watch an Instagram story but would see a post you put on Facebook. With the amount of content that is being published, it's easy for your content to become lost and your audience might never see something that you post. The various social media algorithms usually only show your material to a portion of your audience, so not everyone who is following you will automatically see it.
Repurposing your content can be done by reusing and recycling some of your best-performing content pieces. While the gist of the content will be the same, the wording might be slightly different, or you can change the header. 
Repurposing content can also be done by taking a piece of content and breaking it down further and creating different kinds of content pieces that are specific to all the platforms that your business markets on.
Repurpose Your Best Performing Content
Let's say you posted a blog that got a great response. Instead of just posting the link to the blog on your social platforms you can repurpose it even further. 
Instead of just re-sharing the same content, change up part of it so those in your audience that might have already seen your post on the topic it still feels new.
This can be done by taking a slightly different take, changing the heading or hook, re-wording the piece, or highlighting another part of the content and making it center stage.
Perhaps you could take a key message or detail from your blogs and turn them into a graphic or even a video.  
Repurpose Across Platforms 
In many cases, your original piece of content may have only made an impact on one group of customers. Repurposing the content for different mediums allows you to meet an audience where they are. ¹
For example, let's say you posted a Youtube video that got fantastic feedback. This video can be turned into multiple blog posts, a LinkedIn article, quotes for Instagram or Twitter, a carousel post, a mini-live training series for Facebook live, Instagram story tutorials, etc. 
You are curating more specific and platform-relevant content from a longer piece of content that you already created. 
At Cogency, we repurpose our blogs into multiple pieces of content across different social platforms. Take a look at what we can do with one blog post.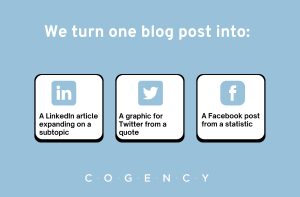 Multi-channel marketing provides the content our audiences are searching for, in all the places they search.¹ You may think that this is overkill but the odds of your audience seeing a piece of your content is low. 
By repurposing content you'll be able to reach a wider audience and target different segments of customers that prefer to take in content in different ways. Repetition of content helps to reinforce your message so that it will convert an audience member to a customer. Publishing quality content about similar topics in different areas of your online marketing, not only helps raise awareness of your business but also teaches your audience to regard you as an expert. 
How to Know Which Content To Repurpose
Look at your insights to determine your best-performing content themes and forms of content that your audience is resonating with. For example, you might see that your Instagram reels are reaching a wider audience than static posts. 
Once you check your insights frequently you'll be able to see the themes of the content that your audience is responding to more frequently, and the ways that they prefer to consume their content. For example, you might see that your audience prefers watching videos over static posts, or they might interact with stories more often than they interact with posts on your feed.
Most platforms have insights and document your top-performing posts for you. If you want to use a third-party app try Hootsuite, or Sprout Social.
If you need help understanding your insights click here.
Why Does It Matter?
By repurposing content you're making sure that your audience receives your message wherever they are on the internet. 
You're ensuring that your audience is going to be reactive to your content based on insights, and making sure that your online marketing is as effective as possible, and relating the right message to the right people, without re-posting the exact same message over and over.